Alberobello, the enchanted city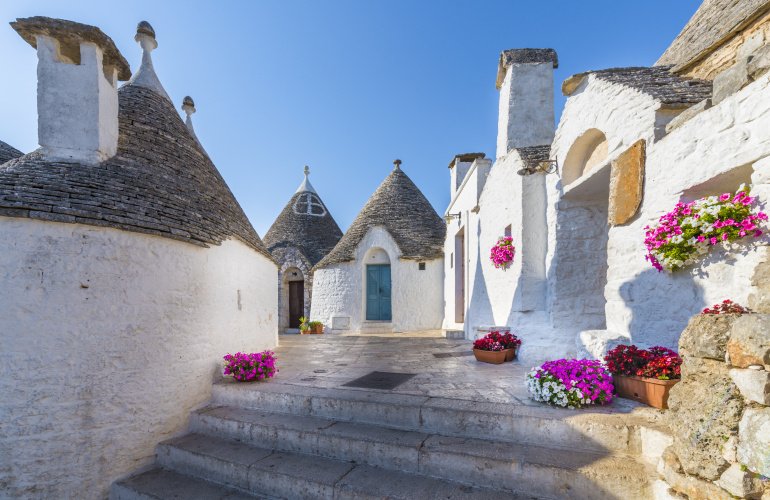 Located in the heart of Valle d'Itria, lies Alberobello, the land of the iconic trulli that embodies uniqueness and historical charm.
The trulli capital of the world is an unmissable stop on your trip to Puglia
Alberobello, the capital of the trulli became UNESCO heritage in 1996, and its magical & fairytale atmosphere will leave you breathless. The charm of this unique place in the world is given by the traditional conical constructions that every year attracts visitors in the thousands from every corner of the globe.
Extraordinary architectures
Fully inserted into the list of the most beautiful villages in Italy by ANCI, this town can be visited in a few hours along the streets of the center. Here you will admire extraordinary and unique architectures such as the trullo church of Sant'Antonio di Padova and the Siamese Trulli, one of the oldest and most singular constructions with an unmistakable "eight" shape. The Sovereign Trullo, built in the eighteenth century, is the largest of the ancient trulli and is the only one to have a raised floor. Another must is the Museum of the Territory: housed in the large complex of Casa Pezzolla, it consists of 15 trulli all connected with each other.
The Sanctuary of the Saints Medici
Dominating and embellishing the city even more is the Basilica of Saints Medici Cosma and Damiano, which is a splendid example of neoclassical elegance, still today a destination for thousands of pilgrims.
The center of Valle d'Itria
The territory that stretches between the Ionian and the Adriatic seas, in particular between the provinces of Brindisi, Bari and Taranto, is better known as Valle d'Itria. This part of Apulia with a predominantly agricultural vocation is dotted with centuries-old trulli and olive trees. Alberobello, with its almost 2000 trulli, is the main center of the Valle d'Itria and is considered the centrepoint of the whole culture of the trulli.

Click on the link to see all of our properties located in Alberobello.