Rice with mussels, potatoes and tomatoes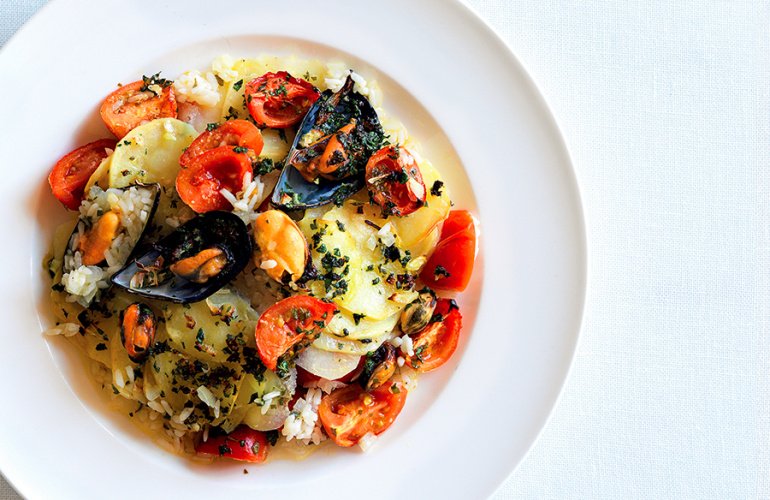 What better way to enjoy your vacation by the sea than to indulge in one of Puglia's most tasty and traditional dishes! Click on the link for the recipe and re-create the taste of Puglia in your own kitchen!
Indulge in Puglia's cuisine
Let your taste buds be inspired from fresh produce straight from the sea, juicy tomatoes and earthy potatoes, seasoned with parsley to give extra flavour.
Recipe
INGREDIENTS
500 g mussels cleaned
500 g potatoes
300 g rice
30 g tomatoes pugliesi
2 onions
grated pecorino cheese
garlic
parsley
extra virgin olive oil
salt
pepper
Duration
:
1 h
Level
:
Easy
Dose
:
4 people

For the recipe of rice, potatoes and mussels, let the mussels open in a saucepan, with the lid, for 1-2 minutes. Remove the empty valve, holding the one with the mollusc. Peel potatoes and onions and cut into thin slices. Finely chop a bunch of parsley with 2 cloves of garlic.


Peel the tomatoes, wash them and cut them into small pieces. Arrange a layer of onions in a pan or in a baking dish; sprinkle with parsley, sprinkle with 2 tablespoons of oil, then cover with a layer of potatoes. Put the mussels and tomatoes on top of the potatoes, season with grated pecorino cheese, salt, pepper and 4 tablespoons of extra virgin olive oil. Finally, spread the rice over everything, distributing it evenly.

Cover partially with some other slices of potato, add a little more oil and parsley. Finally, add as much water as needed to cover the ingredients and bake at 180 ° C for about 30 ', checking at the end to see the rice is fully cooked.
*photo and recipe credits : www.lacucinaitaliana.it
If you are feeling inspired by these beautiful properties, the mouthwatering traditional Pugliese cuisine, then why not hop on a plane and come and visit our beautiful region! You most certainly won't regret it!
Click on the button to see all of our properties by the sea.