Best places to paraglide in Puglia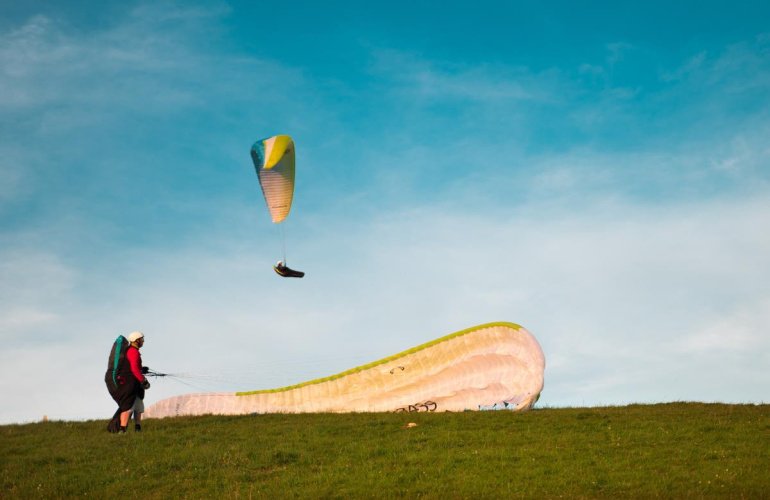 The thrill and adrenaline of flying is possible in Puglia, through an extraordinary experience in complete safety, thanks to certified companies that organise different types of flights.
Paragliding in Puglia: the region where the dream of flying becomes a reality
How many times have we dreamed of being able to fly? You can realize this dream in Puglia and have a totally life changing experience whilst being in the expert hands of professionals.
Paragliding in Puglia
Paragliding is the lightest and easiest way to fly. The limited encumbrance, the practicality of preparation, the ease of learning the piloting in the initial stages, make it immediately entertaining and something that everyone can do. Thanks to the great technological evolution, the paraglider pilot is able to exploit even the weakest ascensional currents, prolonging the flight for hours on end.
Best places to paraglide in Puglia
One of the most active centers in this sense is located on the beautiful hills of Monopoli. Paragliding flights are held on the Loggia di Pilato, one of the highest points in the Monopolitan countryside. From here admire the breathtaking views and allow the wind to gently cradle you towards the valley.
The flights are in tandem with an experienced instructor and the duration is about 15/30 minutes.
Paragliding with motor
In addition to paragliding, you can also choose to fly with a paragliding with motor (paramotor), the simplest motorized flying vehicle that has ever been invented. It is a mini-airplane consisting of a propeller motor attached to the seat and a wing. It allows you to fly as with a common paraglider taking off from the plains autonomously and reaching up to over 3000 meters in height. You will feel like going for a walk in the sky!

Start planning your dream trip to Puglia today! Click on our link to view all of our Holiday Rental properties.