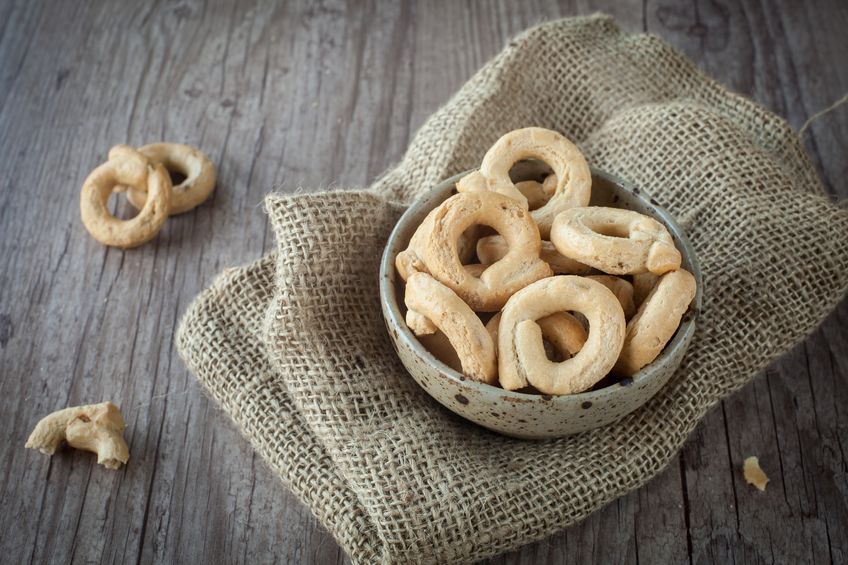 Puglia's true identity and authentic Mediterranean quality are expressed through its gastronomical characteristics. The cuisine of Puglia is essentially simple product that does not mind the noble and refined processing. Traditional Apulian cuisine is certainly amongst the wholesome and genuine in Italy. Everything is cooked in a simple way, with simple ingredients that enhance the flavour of the dish. Puglia's cuisine combines the numerous varietals of seafood from the Adriatic and the simple and more rustic flavors from its land.
Puglia is known for its "orecchiette" (little ear-shaped pasta) and the most famous dish is the orecchiette with "cime di rapa" (broccoli rabe)
One cannot leave Apulia without tasting "taralli" (in photo), Altamura bread, widely renowned thanks to its unmistakable taste and yellow color derived from wheat flour. Aleatico, Primitivo di Manduria and Negroamaro wines represent the glory of a qualified, world-famous winemaking tradition.
5 PDO oils coming from magnificent, centuries-old Apulian olive trees and bringing out the flavors of typical regional dishes.
Have a good experience with Apulian food and wine!
For more information: http://www.viaggiareinpuglia.it/tem/PE5/en/Food-and-wine