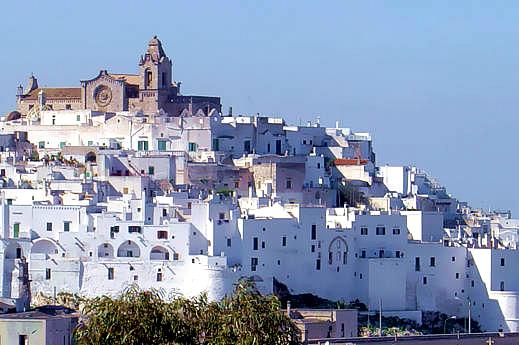 Ostuni is located in southern Murgia, only eight kilometers away from the Adriatic coast, and represents one of the most important cultural centers in Salento.

The charm of Ostuni, nicknamed the white city, lies in the characteristic white color of its lime-washed old buildings, dominated by the cathedral whose style is still a matter of dispute, although some have argued that it might be related to the Gothic-Romanesque building tradition which has left several examples throughout the Apulian territory.

Worth a visit is the portal of the church of the Holy Spirit, dating back to 1450 which is now considered a national monument.

Because of its 17 km of shoreline which alternates sandy coves, rocks and pebble beaches with dunes covered in the Mediterranean scrub, the Foundation for Environmental Education awarded the city the prize Blue Flag 2013.

One of the city's crowd-pulling event is St. Orontius day,characterized by the traditional ''ride'' which sees municipal authorities and representatives of the clergy parade on horseback alongside ladies and knights dressed in medieval costumes.