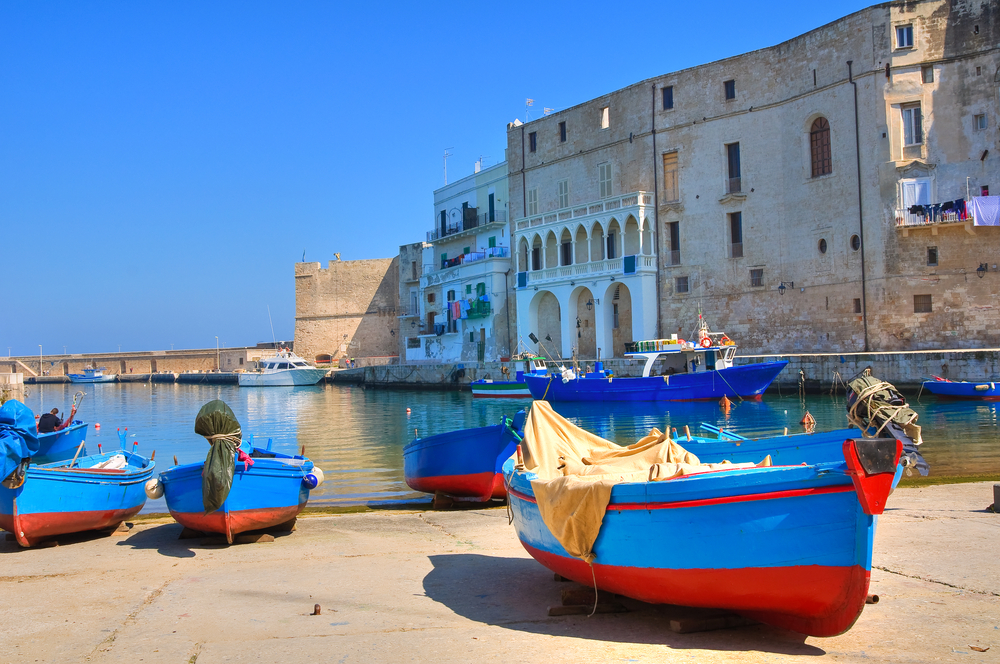 Monopoli is a charming town on the Adriatic. It is famous for its pristine beaches, historic center and baroque churches.
The town grew considerably in the Baroque period. The twelfth-century cathedral was given a new façade and many noble houses were built such as the lovely Palmieri mansion.
The artistical heritage is notable. Starting in the lovely historic centre, you will find old houses facing onto quays giving a clear impression of medieval landing stages. The streets make up a labyrinth of paths that lead to the sea. The cathedral is one of the most interesting examples of Apulian Baroque.
A hard-working agricultural and fishing town, Monopoli has developed a strong touristic vocation in recent years with its many enchanting bays.
NOT TO BE MISSED
Madonna della Madia Cathedral, built in 1107 and completely rebuilt in the 18th century - one of the most attractive examples of Baroque in the entire Apulian region. Notable is the Byzantine icon portraying the Madonna della Madia. It can be found on the second floor chapel in the cathedral. Legend tells that the sacred image was washed up from the sea on a raft made of huge wooden logs. These logs were then used for the construction of the trussed roof which dates from 1280. It is very well preserved and is of fine workmanship.
Santa Maria degli Amalfitani near the port of Monopoli is a Romanesque building erected at the beginning of the 12th century on a pre-existing rock settlement.
Abbey of Santo Stefano - a fortified complex built in 1086. The remains of an old church survive in the inner courtyard and still inside there are the visible remains of the Roman settlement of Turris Paola.
Charles V Castle bounded on three sides by the sea and protected on the fourth by a moat that no longer exists, was erected by the Aragonese during the first half of the 15th century. Used as a prison until the beginning of the 20th century, the castle has been recently restored and today houses the Municipal Archaeological Museum on its first floor.
Purgatorio Church inside you will find the familiar Baroque interior but on the adjacent chapel you will find mummies of some local citizens. If the church is closed then you can watch some of the mummies through the street window.
Palazzo Palmieri is located in a central square of the Centro Storico.
Madonna del Soccorso is a old grotto with frescoes which was dug out of a natural cavity in the rock.
The countrysidet consists of 99 districts characterized by the presence of "Masserie Fortificate" of ancient roman origin, Rupestrian Churches, neo-classic villas and houses.
Further info at: http://www.viaggiareinpuglia.it/at/113/comune/164/...