The pearl of the Adriatic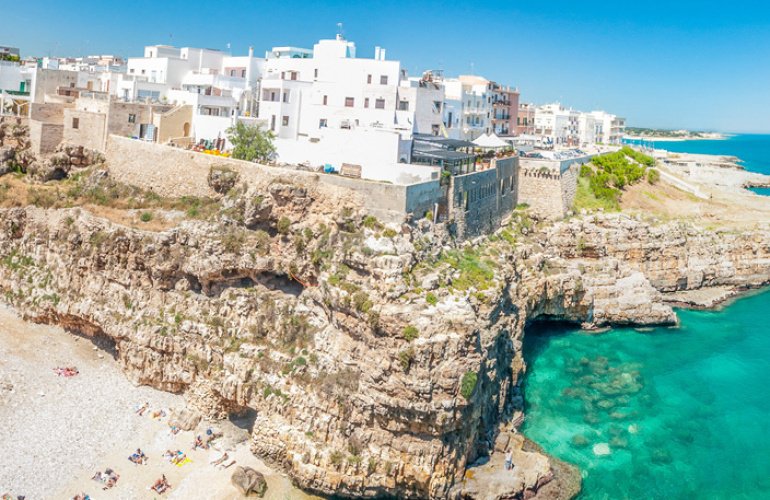 Terraces overlooking the sea, poetry imprinted on the steps, historical and legendary places: the city of Domenico Modugno amazes and enchants visitors from all over the world.
Shining and suggestive, Polignano a Mare seems to dominate with its dramatic cliffs overlooking the sea.
Nestled on the dark rock overlooking the stunning blue sea, Polignano è is the pearl that embellishes the Adriatic coast south of Bari. This small town will gives an unforgettable experience, when you are finding yourself lost in the little winding alleys in the historical centre and all of a sudden you end up facing a small lookout area overlooking the water. Your eyes are drawn to the hypnotic wave movement above 30 metres below you whilst admiring the unique panorama that will open before your eyes.

Colors and poetry
When visiting Polignano a Mare, you must bring with you a camera as there are countless perfect backgrounds for the most artistic shots thanks to its bright and changing colours. It is no coincidence that this beautiful town has been the location of many films, both Italian and foreign and every year throughout the summer, it is a destination in demand for thousands of visitors all over the world.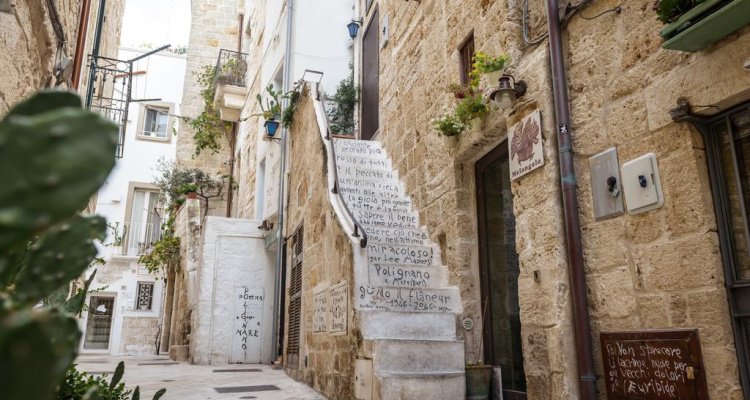 Old town - Polignano a Mare

What to visit
The most interesting places not to be missed during your walk in Polignano are certainly Lama Monachile, the small rocky beach that seems to split the very high rock in two and that you can admire from the top of a bridge. Then you will enter the historical centre through the Arco della Porta and here you will get lost amongst the alleys and stairways adorned with flowers or poetry. The Mother Church of Santa Maria Assunta dominates Piazza Vittorio Emanule along with the old clock that is still recharged by hand. Then Piazza San Benedetto and the Grotta Palazzese and still the streets and the various balconies that will amze you each time and will remain forever etched in your memory.

Legendary places
Just outside the historical centre, through a brand promenade by the sea, which is also suitable for cycling, you will find the modern museum dedicated to the famous artist Pino Pascali and a little further on the solitary and suggestive rock of the Eremita. This inlet, not far from the coast, and lends itself to many legends that the locals will be happy to tell you.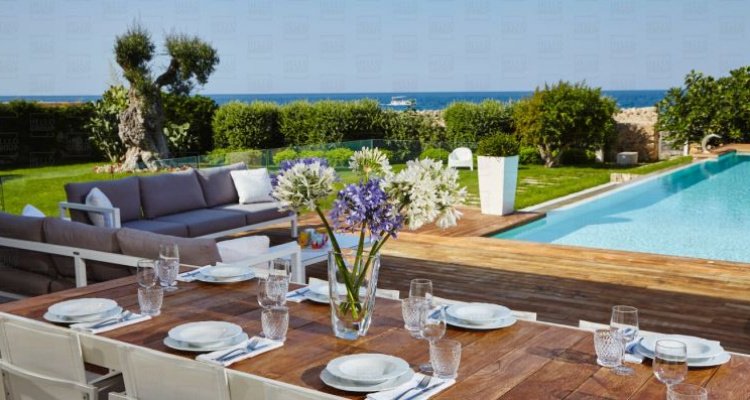 Villa Malga - Polignano a Mare
The Abbey of San Vito
North of Polignano, going back to Bari, stop for a few minutes to observe the small beaches of Cala Paura and Cala Ponte up to the Abbey of San Vito. Dedicated to the patron saint of the city, this Benedictine abbey was built on the sea in the 10th century; solitary yet animated by a small fishing port, it has a melancholy and poetic aura that you will carry with you as a lasting gift from this wonderful land.