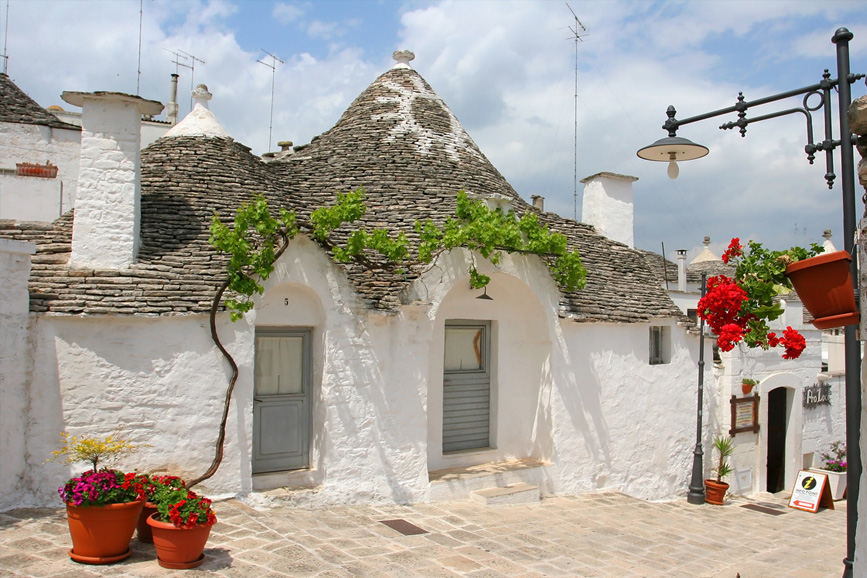 South-east of Bari and the Itria Valley occupy one of the most fascinating areas of Puglia.
Rutigliano, Turi and Norba (now called Conversano), were inhabited since ancient times by Peucezi. The land rich in agriculture has always been cultivated following clever and often innovative methods. This region although karst is very fertile.

A spectacular feature of this area is the strong presence of caves such as those of Castellana Grottre. They formed over the years from particular geological formations in the territory.
The Itria Valley embraces the provinces of Bari, Brindisi and Taranto and is situated between the towns of Locorotondo and Martina Franca. Its landscape is characterized by trulli, the typical expressions of spontaneous and rural architecture.
The valley is filled with vineyards and olive groves. It is dominated by hills on which the towns of Locorotondo, Martina Franca, Cisternino and the forests of the Selva di Fasano lie.
The area is dotted with oak trees and fruit orchards. The land is divided by "dry walls" created from the careful placing of stones without using mortar. This method of land division has been used by farmers since ancient times. They are in abundance in the area of "chiancarelle". The same type of stone was used for the construction of the famous Trulli. They are rural stone houses that represent the perfect balance and harmony between man and nature. The Itria Valley is about 29 km from Taranto and about 60 km from the regional capital of Bari.