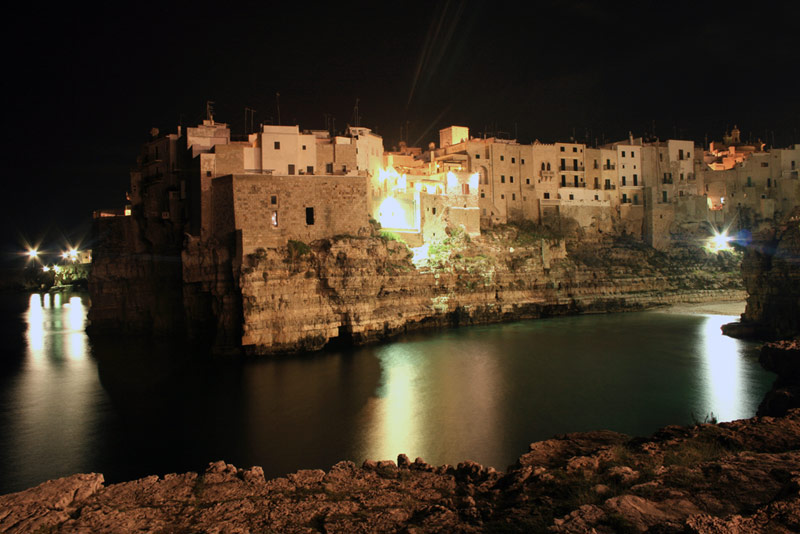 Polignano a Mare is a fishing village surrounded by the lush blue waters of the Adriatic Sea. Low scrubby bushes and evergreen trees, as well as precious strips of beach, craggy rocks, coves and promontories cover the land.
In ancient times called Neapolis, it overlooks the sea with houses from high up on the rocks. The buildings are all whitewashed, and there is a stunning cathedral. The numerous caves in Polignano al Mare were formed from the rough sea waves that molded the rock.
Some of the caves are deep enough to reach the center of the town. There is a huge underground cave and grotto that gives so many buildings their name. The underground cavern has crystal clear water and blue stalactites and stalagmites.
The Grotta Nera's rock formations look like dripping mud and water that have been frozen in time. The Cavernone dei Monumenti is filled with pillars growing out of the ground, formed of rocks that are green, orange, white and brown.
La Grave is a stunning hole in the ceiling of the grotto, through which white sunlight streams, contrasting against the black and green rocks that turn golden in a halo of sun. Some of the more famous caves are Stalactite Cave (Grotta Stalattitica) and the Cave of the Seal (Grotta della Foca).
NOT TO BE MISSED
The Chiesa Matrice, consecrated in 1295, with a massive, quadrangular bell tower. The 16th century Renaissance style prevails inside the church, but the presbytery is Baroque; in the sacristy there is a polyptych by Bartolomeo Vivarini (1472).
Saint Vitos Abbey, with a 16th century loggia, a large courtyard and a medieval watch-tower.
Grotta Palazzese can be reached from the sea and from land, via a staircase inside the famous restaurant of the same name.